Design and 3D print your own custom bookmark for your most loved books!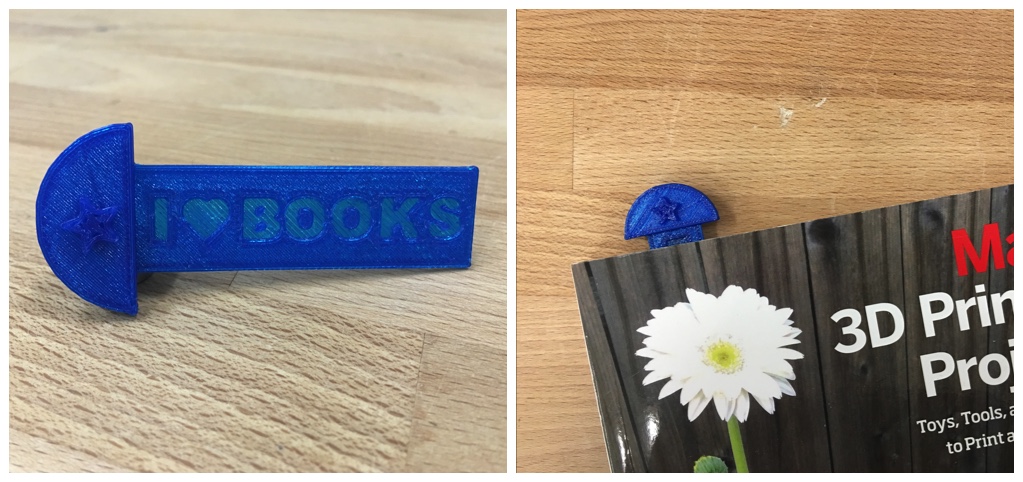 Setup and Supplies
Making a 3D Printed Bookmark is a quick and simple 3D printing project that is great for beginners! All you need is Tinkercad and a 3D printer.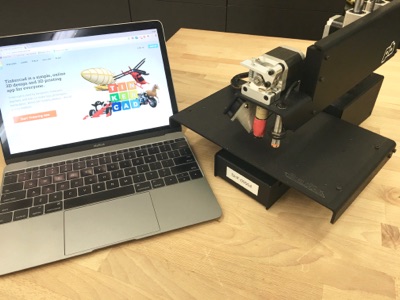 Build time:
Approximately 30 – 40 minutes
Skills needed:
Tools:
Computer
Tinkercad – web-based 3D design software
3D Printer
[hr]
How to Make a 3D Printed Bookmark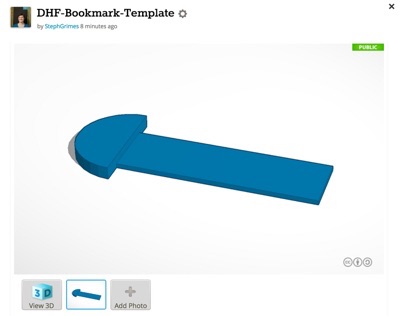 Step 1: Access bookmark template
Log into Tinkercad, so that when you open the bookmark template, it opens in your account.
Click on this link to open the template you will use for your bookmark: DHF-Bookmark-Template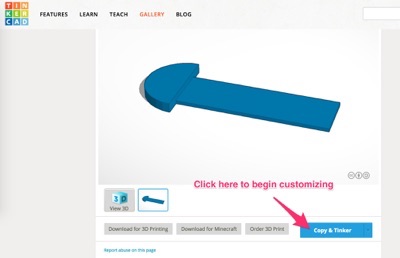 Step 2: Open bookmark template in Tinkercad
Once you have the file open, click the "Copy & Tinker" button.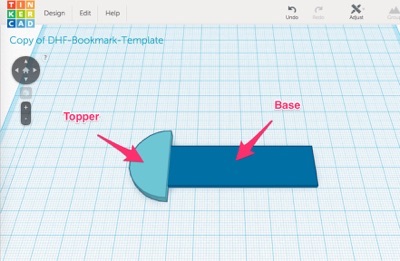 Step 3: Look at parts of the bookmark template
The bookmark template is made up of two main parts: the base and the topper. Each part has size restrictions as follows:
The base should not exceed 62mm L x 19mm W x 1.5mm H
The topper should not exceed 16mm L x 32mm W x 4mm H
Total length = 78mm; Total width = 32mm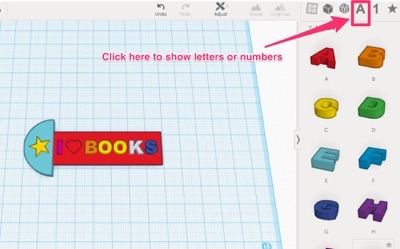 Step 4: Begin customizing your bookmark
When the template appears on your workplane, you can begin customizing. To access letters or numbers, click the "A" or "1" in the top right.
NOTE: You can change the shapes used as part of your bookmark, but please follow the size restrictions above.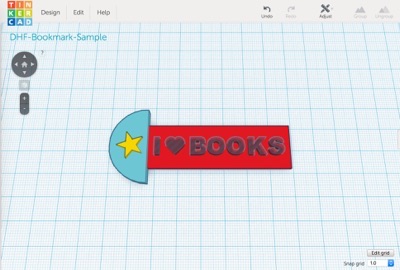 Step 5: Complete your design
When you have completed your design, it might look something like this. Make sure that there are no stray objects anywhere on your workplane because those will cause your print to fail.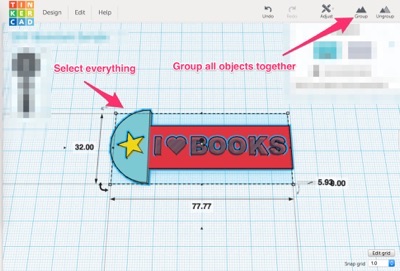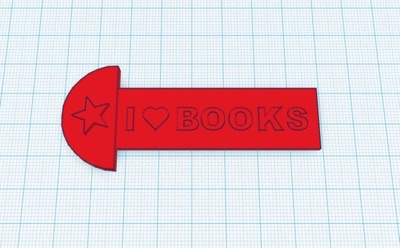 Step 6: Group all objects together
After checking your workplane for stray objects, select all objects in your design by clicking and dragging over them to highlight them all in blue.
Once all the objects of your design are highlighted in blue, click the "Group" button at the top of the Tinkercad window.
When properly grouped, your design will be all one color. It is now one object and is ready to be downloaded for printing.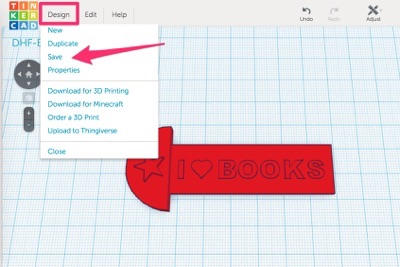 Step 7: Save your design
When you are ready to print your design, save and download the design by following these steps:
Click on "Design" in the menu in the top left.
Then, select "Save" from the dropdown menu.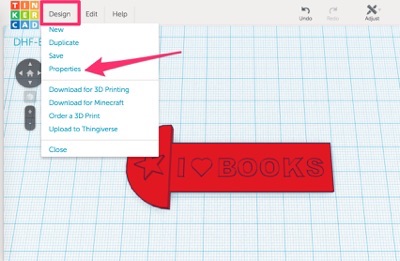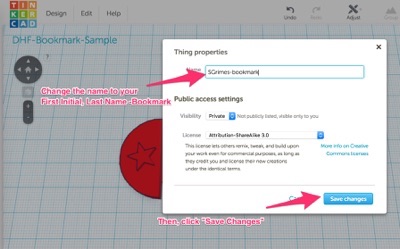 Step 8: Change the name of your design
Next, you will want to make sure to change the name of the design so it is recognizable as yours when it is printed.
Click on "Design" again in the top left menu. Then, from the dropdown choose "Properties".
When the Thing Properties window pops up, select the text and delete it. Change the name of the file to be your First Name, Last Name – bookmark. (ex: firstname-lastname-bookmark.stl)

Then, click "Save Changes".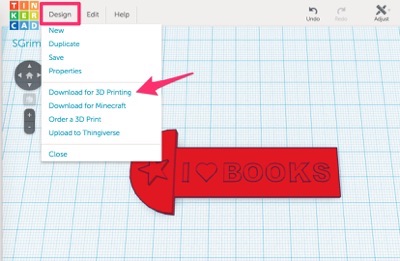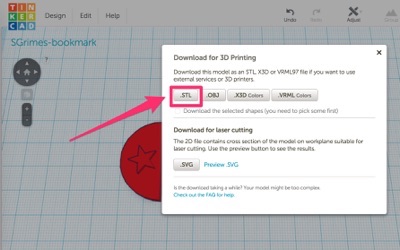 Step 9: Download for 3D Printing
When the filename has changed, you are ready to download. Click "Design" again and choose "Download for 3D Printing" from the dropdown menu.
When the Download for 3D Printing box pops up, click the ".STL" button.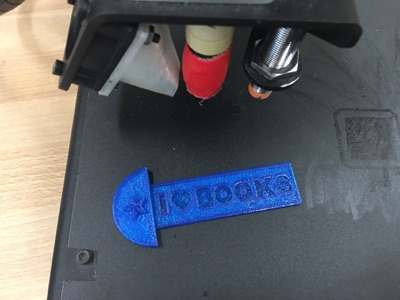 Step 10: 3D Print your bookmark
You are now ready to print your bookmark! Follow instructions from the instructor on how to upload for printing.
---
Learn more