Here at DHF when we are working on a new project, or our youth are working on a new project, we follow a Design Process. We have created our own Design Process in house that works best for us. We are sharing this with you, feel free to use it as is or adjust it to better fit your needs.
What is the Design Process?
The Design Process is a way of thinking through and solving problems. One thing to note is that this process isn't just for artists or architects (or whoever else you may often find associated with the word design). This Design Process is built on key ideas from what is called design thinking, a method for creative and effective problem solving.
The process begins with a problem, or a challenge prompt. One of the strengths of this process is iteration – each solution is viewed as another starting point. The idea being that continual improvements will lead to the eventual solution to your initial problem. Each of these points can also yield other directions or branches that may not have even been considered at the start of the process!
Why Follow This Process?
Having a process to work through while working on a project is a great way to help avoid roadblocks and pitfalls. The Design Process is central to the Maker Movement. Makers around the world employ a similar process while working on projects. One of the best features of this iterative process is that it's possible to explore many solutions to a problem and quickly integrate the feedback of your peers.
The Design Process allows for solutions to be built-up by gathering information from a variety of sources and then testing to see what works and what doesn't. This feedback and information gathering occur at all stages of the process, and once something is thought to be effective and work, it can then be integrated into a prototype of the solution. The overarching aspects of this process are iteration, prototyping, and feedback. Feedback should be given and taken during the entire process.
Below are what we identify as the basic steps of the Design Process:
The DHF Design Process
The steps of this process are best illustrated by a graphic. Before beginning the process, you should have an idea of the problem you're trying to solve or a general idea of what you're going to work on. This can (and probably will) evolve while working on the project.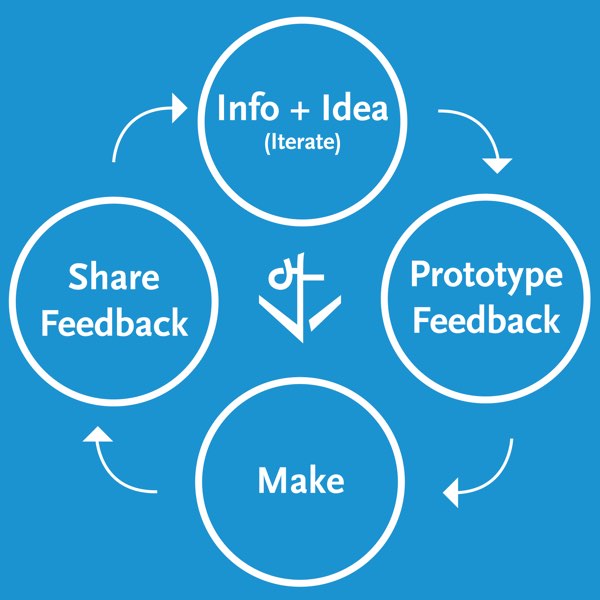 Information and Ideas
This first step is where you gather information about your problem/project and brainstorm some ideas. If you look at the diagram, once you cycle through the other steps of the process you'll land back at this first step. At this point you'll want to begin to iterate on your designs.
What is Iteration?
Iteration is refining a process or project through a series of repetition. Each stage of repetition is called an iteration, and the end result of one phase is then used as the starting point of the next iteration. This process is largely why the design process can be represented as a circle. When each new iteration begins, the feedback and results of the previous cycle are taken into consideration and improved upon until the desired outcome is achieved.
Prototype
After gathering some information about the problem/project, the next step is to create a prototype. The first step is to sketch your ideas and plans. This can go right into your Maker Notebook. Your sketch can be entirely drawings, or a combination of drawings and notes. This phase should include measurements when necessary. The more information and planning you put into your prototype, the more refined your outcome will be!
Next, you should plan to build an actual prototype. This stage won't always apply to the particular problem/project you're working on. For projects involving fabrication, such as 3d printing, you'll want to create an accurate physical prototype. For some of the other areas, such as Game Design, you may not necessarily need a physical object, but you should still focus attention on this stage to come up with a working model of what you intend to create.
Once your prototype is complete, you'll want to begin to gather feedback about what you've done so far. This step is crucial! The prototype should be a way to avoid problems with your real production. Generally, the more feedback you get on the prototype, the less problems you'll face with production.
This is an important skill when working with limited resources. The saying "measure twice, cut once"is a great summary of the prototyping step of the Design Process.
Make
This is the step that many love to jump right into, however you'll find that designing your prototype and receiving feedback on it before making the real thing is a great way to improve your design skills. Keep in mind that this may not necessarily be the final version of your project- it's the first iteration. At the making stage you can (and should!) receive input and feedback as you move the design from prototype to actual version. The more feedback and information that you integrate into your process, the smoother the entire process becomes.
Share
The next step is to share out your project and continue to collect feedback about it. Feedback should be taken into consideration throughout the entire process, but this is the phase where you have the most dedicated collection of feedback. For example, here's some good points to identify:
What would you do differently?
What worked?
What didn't work?
What did you learn?
After answering these questions, focus on gathering as much information as possible in preparation for the next iteration of your project. Your project may be finished at this point, or you may need to make some changes based on the feedback.