Overview
Makerspaces can foster many valuable traits and mindsets in our youth. Makerspaces offer a chance to return to hands-on learning which is such a different experience for youth because traditional education as moved so far away from these types of opportunities.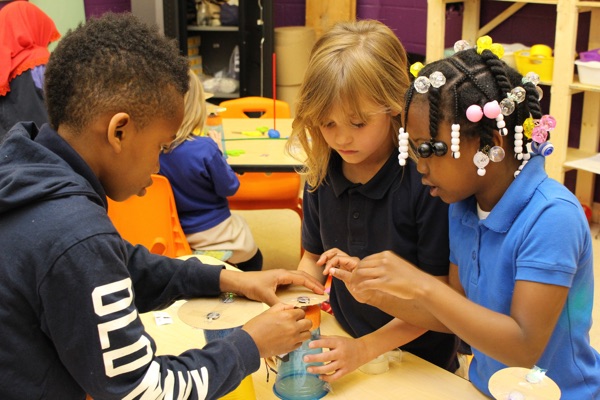 Valuing the Process
In the book Zero to Maker, David Lang offers his thoughts on the value of making in the form of an easy to remember equation.
The Valuing the Process Equation
Buying = Thing
Making = Thing + Learning + Story
Buying (Fail) = Crappy Thing
Making (Fail) = Crappy Thing + Learning + Story
This is a simple way of looking at the value of making for kids because it explicitly highlights the richness that comes from making even if your project doesn't work out. A lesson that so many of our youth can benefit from today.
Inside a Makerspace
These are just a few of the things you might see taking place in a youth makerspace:
Open-Ended projects and approaches
Curiosity and interest
A high level of engagement
Collaboration
Reflection and insightfulness
Creativity
Learning together
Youth Led – Educator Supported
Value of Making for Youth
When youth are given the opportunities to learn through making, the value of that experience can add so much richness to their lives and contribute to them becoming productive and active citizens. Some of the values we see youth building through their experiences with making include:
Ownership
Ownership of learning
Ownership of the product / project
All of our youth should be able to describe their project in detail and what they learned in the process
Exploration
Youth in our programs are encouraged to explore materials, technology tools and equipment, and new methods of problem solving through their projects and work
Providing open-ended prompts as often as possible is an excellent way to encourage exploration
Also providing a chance for youth to iterate on their project and revise their approach will go a long way to encourage exploration
Collaboration
Makerspaces are a place to share tools, share space, share ideas, and share expertise – allow youth opportunities to do all these things
Planning for and encouraging collaboration among youth of different ages and backgrounds can lead to rich and valuable experiences
Other Values
Perseverance
Grit / Determination
Comfort with the Unknown
Creativity
Productivity
Right Now is the Time
Now is the best time to start introducing youth to the maker movement. This is a movement where all youth can be valued and develop self-worth based on their skills and learning. We have seen many young people carve out a place for themselves to be recognized, celebrated, and admired for their involvement in the maker movement and the projects they are making.
We Don't Know the Careers of the Future
Youth starting school this year will graduate in 2027. Can you imagine what 2027 will be like? It is impossible for us to know what future careers might exist. This is true for even our high school aged youth who will be looking to move into a career in the next 4-10 years. A great example of this is the field of Mobile App Development.
What we need to focus on, and making is a great vehicle for exploring this, is teaching our youth to learn how to learn and to love learning. If we can equip youth with those two critical skills and mindsets, they will be prepared for whatever the future holds.
Making & the Standards
For in-school making, this is a great time to get started because making aligns really well with many of the academic standards teachers are required to address. Common Core, Next Generation Science Standards, and the National Educational Technology Standards all lend themselves really well to making and hands-on exploration and learning.