Have you ever asked yourself the following questions:
What is a Makerspace?
Why is making important to youth?
Where do I start?
If so, our Making for Educators workshop is for you!
In this 2-day educator workshop, we introduce ideas and concepts on how you can create an immersive, hands-on learning environment through making. We discuss the maker's mindset, project ideas and templates, and tips on building your own makerspace. You'll leave with your own kit of supplies in the Makerspace Starter Kit.
This workshop is eligible for credit: 1 CPD Credit through the Maryland State Department of Education
Upcoming Events
(Select a workshop to register)
[ecs-list-events cat='Making for Ed']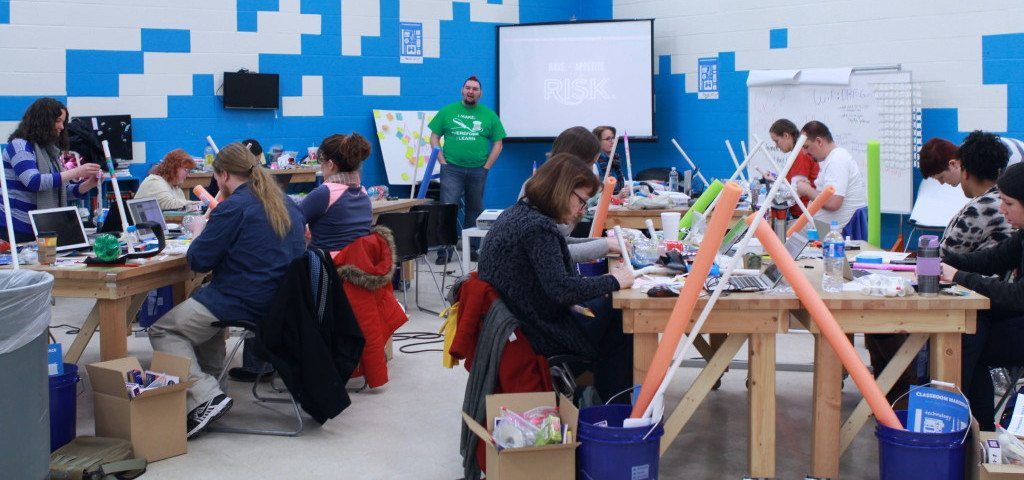 After the workshop, you will be able to:
Make the case for making in education
Teach maker skills to students
Engage students in hands-on, creative problem solving
Start your own student makerspace for any age group
Integrate making into your curriculum
Find and create highly engaging design challenges
During the workshop, you will receive:
An overview of the Maker Movement
An understanding of how making benefits students, the maker mindset, and value of experiential learning
Introduction to a wide variety of beginner maker tools and materials
Insights and perspectives from our experience running a youth makerspace
Materials, tools, and prompts to complete at least 10 different hands-on maker projects
Project guides for these projects and many more
Project starters and ideas
Resources for creating your own maker prompts and projects
Educational resources for student makerspaces
A 6-month Blueprint subscription
Kit Contents – Makerspace in a Box  (a $300 value)
Enough supplies to get started making right away or jump-start your own student makerspace
Supplies, tools, and materials for at least 2 each of 10 different projects + extras
6-month Blueprint subscription
Target Audiences:
After-school instructors
Science center staff
Librarians
Classroom teachers
Community organizers
Anyone interested in facilitating a hands-on-learning makerspace experience
What Educators are Saying: 
"This workshop was so awesome.  I really enjoyed being able to do the projects hands on so that I was able to understand how the projects are done."
"I thought this workshop was phenomenal! It gave me a lot of ideas of specific projects I can do, but it also gave me a better understanding of what a makerspace is and how I can incorporate making into what I do everyday. This was exactly what I needed to actually start a regular making program at my library. Thank you so much!"
Upcoming Events
[ecs-list-events cat='Making for Ed']
If you are interested in paying by P.O. or invoice, please Contact Us
---
Learn More